My Love/Hate Relationship with Traveling
Work Travel: the Good, the Bad and the Ugly
meeting people like Rosita, my best buddy in London at the Pre-Olympic test event & the Olympic Games
Like most relationships, ours is complicated. We fell in love at first sight but in time we got to know each other better and that's when the problems started.
It turns out, the Olympic world wasn't satisfied with a trip every couple of months. It gradually got very demanding and then it got crazy and abusive and we were traveling several times a month! Where? Everywhere! ISSF World Cups and Championships; pre-Olympic test events and Olympic Games; ISSF Executive Committee and Council meetings; General Assemblies; International Olympic Committee Sessions; SportAccord Conventions and Association of Summer Sports International Federations ASOIF General Assemblies; IOC special Commission meetings and more!
I can't even imagine what the ISSF athletes so through with so much back to back travel, carrying guns that need special check-in procedures, permits, and endless questions. And the rifle/shotgun cases they have to lug around airports! Some of our athletes are tiny little young ladies that weigh 45 kg and I've seen them carry a backpack, their gun case, their competition gear and clothes. Oh, and they've been shooting practice or in competition for HOURS! They have my total respect. They're bad-ass!
watching a Target Sprint competition in below zero temperature. The athletes were wearing shorts and a tank top. Really puts things in perspective.
The love for the Olympic world was still there, don't get me wrong. It was still exciting to go through the ritual of packing and driving to the airport, excited about visiting a new city. After so many years, I know how to make my trip more pleasant: I get 3 bottles of water for the flight (have you noticed they're serving tiny glasses of water ONCE in a 3-hour flight and THREE times in a 12-hour flight? When did we turn into camels?!), an apple or two and a yogurt (airline food is now not only NOT FREE, it's not safe). I've got my special pillow with me, my meditation app and earbuds, a cozy puffer jacket and my books on my phone. I love the Olympic world and I'm making this relationship work, damn it!
ANOC (The Association of National Olympic Committees) is holding its general assembly in Bangkok and, excited as I am to be going, it's 20 hours in the air, with one or two looooong stops, so by the time I land, my back hurts, I haven't had a decent meal or slept much and I will only be there for 2 nights, after which I will fly back to America. Really, Olympic world?! Really?! Why are you being like this?
After an official dinner the first night, I get back to my hotel room at 11 PM, which means it's 11 AM back home. My body is exhausted, my brain is confused and I'm waking up every two hours. The next morning the general assembly starts at 9:00 AM (9:00 PM back home). Some of the speeches are almost like a lullabye…I struggle to stay awake. This pattern continues for the 2 days I'm in Bangkok.
Two days later I'm back in America. "Hey, how did it go? Did you have fun? What did you see? Did you see the reclining Buddha?!" No, I saw the hotel. Besides, the Olympic world and I are having problems so we're going to see a therapist together.
This is all I saw of Sydney on my first trip to Australia
Two weeks later, I fly to Munich for ISSF meetings. The Olympic world and I don't speak to each other the entire flight. I won't even share my water. For the past couple of weeks since we returned from Bangkok, work preparing the ISSF meetings has been insane and I sleep the entire flight. I've overpacked once again and I almost throw my back out getting my suitcase off the carousel. The Olympic world can take it's own car, I don't want to see its face.
That night we have dinner with all the council members, spouses and delegates who area already in Munich and I remember why I love Olympic Travel. All my friends are there and we eat and gossip and laugh and all the sleepless nights and jet lag are forgotten.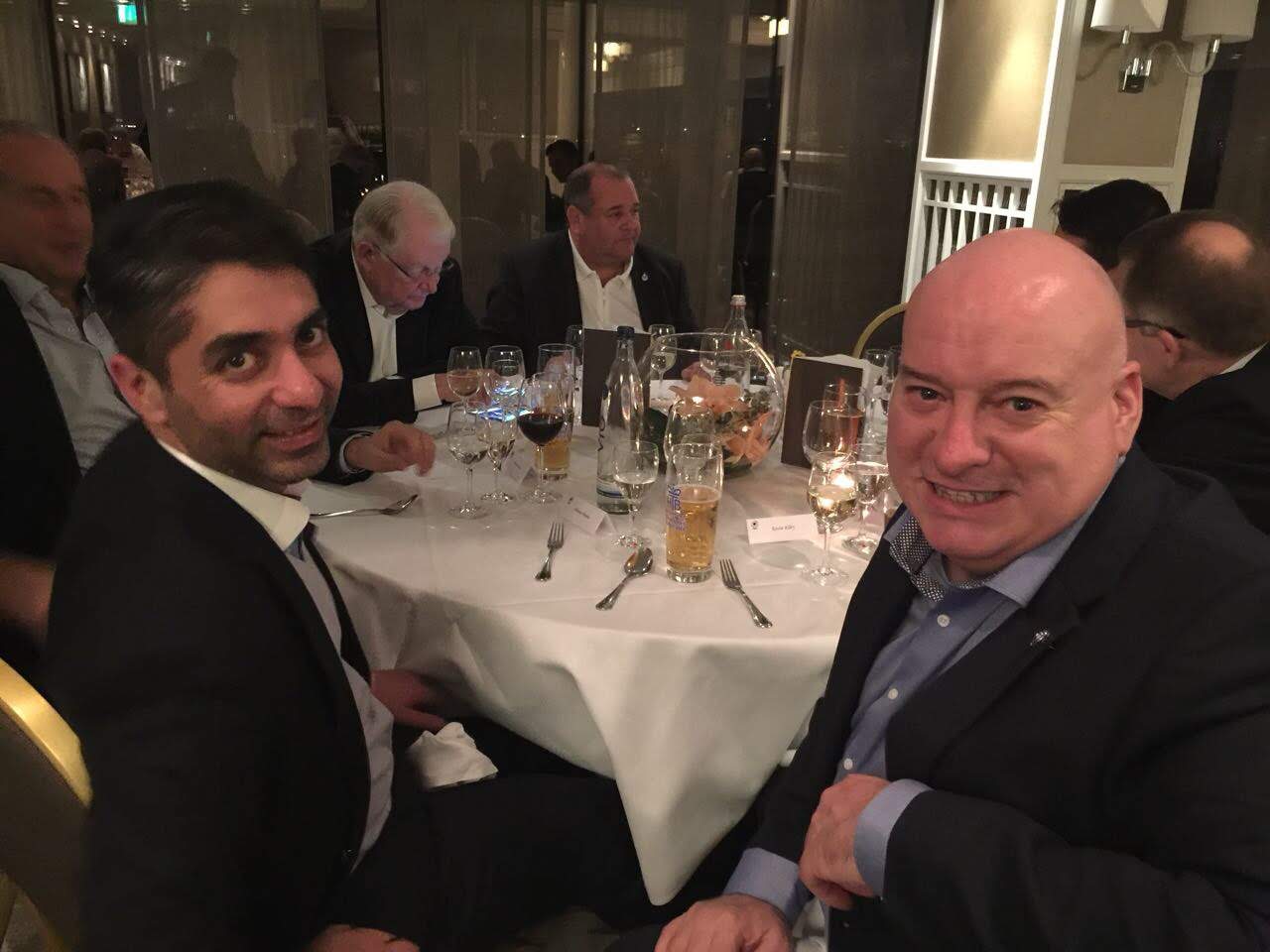 Meeting up with people I love makes all the work travel worth every minute.
And then there are those moments when my boss says: "Well, there's nothing more to do today, Grace, why don't you take the day off and we'll meet at dinner?" or we arrive in Sydney and our itinerary reads: "10:00 Departure: Featherdale Wildlife Park", my heart skips a beat and as we board the bus I say to Nick Sullivan Chairman of the Organizing Committee of the ISSF World Cup in Sydney: "Thanks so much for this, Nick!!" And he replies "Well, you expressed a wish to vist a wildlife park, didn't you?" And we wink at each other and it's a BEAUTIFUL day!!
So, the Olympic world and I will always be together and there will always be love between us. Would I recommend this job to someone looking for a map to the future or a change in careers? HELL YES, I would!!